The method: NeuroScanBalance
Über die Gestaltung von Bewegung beeinflusst NeuroScanBalance die Organisation und Regeneration des Gehirns. Die effiziente Arbeitsweise des Gehirns zeigt sich im Endergebnis, dem geschickten Gebrauch der Feinmotorik. Dabei gestaltet sich die Feinmotorik in den Bereichen des Gehirns, die mit der größten Nervendichte besiedelt sind. Diese Areale organisieren zu können beeinflusst den Stand der Hirnentwicklung allgemein. Die NeuroScanBalance Methode greift dabei den Stand der derzeitigen Bewegungsentwicklung auf. Über ihre systematische Vorgehensweise schult NeuroScanBalance die effizientere Selbstorganisation der motorischen und in Verbindung damit aller menschlichen Funktionen.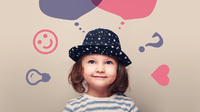 Increasing the prospects of your child

The brain of a child is available for potentialt learning nearly always. No matter of the diagnosis or developmental challenge. The NeuroScanBalance method for children is based on the understanding that many diseases and disorders of childhood is interrupting the normal conversation that needs to take place between the brain and the world around it.
Often it is possible to get that conversation started in gentle ways that directly communicate with the nervous system of the child.
Primarily through movement and kinesthetic experiences. Through this process, developmental gaps caused by various conditions and traumas get filled in.
Freedom starts in your head

Das Gehirn steuert die Muskulatur. Wie wir sitzen, stehen, durchs Leben gehen und sogar unsere mentale Beweglichkeit ist das Ergebnis eines lebenslangen Lernprozesses. Körperliche und geistige Beweglichkeit findet sich in der Struktur unseres Gehirns wieder. Deshalb kann man an der Art und Weise, wie sich ein Mensch bewegt und besonders an der Organisation der feinmotorischen Bereiche wie dem Gesicht, den Händen und den Füßen sehen, wie effizient große Teile des Gehirns arbeiten. Die NeuroScanBalance®-Methode nutzt die selbst-korrigierenden Eigenschaften des Nervensystems. Über den Einsatz der Feinmotorik wird dem Gehirn eine Vielzahl von Variationen angeboten, die es unserem Nervensystem ermöglicht, bessere und effizientere Lösungen zu finden.